Get the Word Out About Your Special Brand on the Internet
Contact us at +91 9606 441 900 for an estimate
Do social media platforms give your company the endorsements it needs to succeed? Through social media marketing (SMM), you may expand the reach of your business online and forge deeper connections with your clientele.
Social media marketing services from 9 Pinn Digital Media are available to organisations of all sizes and scopes, including those with several locations. Whether you own a small business or one of the Fortune 500, our team of social media marketing specialists can help your company succeed. Get in touch with us, and our social media marketing agency will help you build a stronger, more trustworthy brand.
Primitive Strategies for Social Media Advertising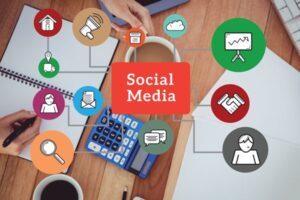 You Need to Find the Right Medium to Spread Your Company's News and History
In today's internet-based society, social media platforms are relied upon heavily for breaking news and other important information. Nonetheless, that's not all. There is little doubt that a company's social media following and activity significantly impact its search engine results and digital marketing efforts. In 2021, an estimated 346 million people worldwide will join the ranks of the 4.57 billion social media users already online today. In addition, research from Global Web Index shows that social media users spend two hours and twenty-four minutes every day, on average, using eight or more different networks and messaging apps. Knowing how to sell on social media is becoming increasingly crucial for reaching target demographics, and building brand awareness as social media usage continues to rise tremendously. 
However, many marketers venture into the digital and social media marketing space without a firm grasp of what social media marketing is and what is expected of them. Take care not to repeat my blunder. Instead, experts in business-to-consumer (B2C) and business-to-business (B2B) social media marketing are available to assist you in developing your strategy. In this article, the social media marketing specialists at 9 Pinn will explain social media marketing and how to sell using social media effectively.
So, tell me again, what exactly is social media marketing?
Social media marketing is Internet advertising that uses various social networking sites like Facebook, Twitter, LinkedIn, and Pinterest to increase brand awareness, attract new customers, and introduce businesses to a broader online audience. Advertising on social media is an effective strategy for businesses of all sizes because it allows them to connect with customers where they already are. A social media marketing strategy that is both innovative and data-driven can significantly increase sales and customer loyalty and convert some of your consumers into vocal advocates for your business. More importantly, a creative approach to social media marketing can significantly impact your SEO and digital marketing initiatives, increasing lead generation and sales.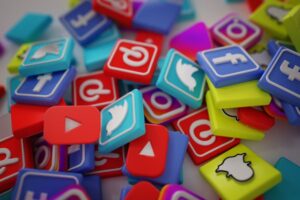 Do Businesses Need to Invest in Digital and Social Media Marketing?
Yes. The success of an online business depends heavily on digital and social media marketing. All digital and social media marketing techniques aim to increase brand recognition and sales. With the help of social media and other digital marketing strategies, you can introduce your brand to consumers precisely when they are ready to buy. 
Furthermore, combining digital and social media marketing activities can maximise potential customer touchpoints and conversion opportunities. Remember that success in the digital world isn't about choosing between digital marketing and social media marketing. Instead, it's about developing strategies to communicate your brand's message. Reaching your target audience and boosting your online reputation requires a multifaceted approach that includes digital and social media marketing.  The key is to make sure that your social media digital marketing strategies are in line with your goals.
Why Should You Use Social Media Advertising Services?
Social media marketing services offer many benefits for new and established businesses. For example, social media content marketing can lead to more search traffic, better SEO, more consumer engagement, and more brand loyalty as long as an excellent social media marketing strategy and campaign monitoring system are in place.
Having second thoughts about hiring a social media marketing agency? 
To help you make a more informed decision, I will list the most important advantages of social media marketing:
Increased Online Visibility:

As it evolves and grows, social media marketing has become a potent tool for promoting businesses and products online. Facebook, Twitter, LinkedIn, and Instagram are just a few social media sites that can dramatically expand your business's reach and attract new customers. Your ability to reach out to more people online depends on the number of likes, shares, and comments your content receives, which may be increased by employing an efficient social media content marketing plan.

Top Search Engine Results:

Recognising the value of social engagement, search engines like Google and Bing now incorporate updates, Tweets, profiles, and comments into their search results pages. More people will visit your website if people like, retweet, and share your material across social media. This will improve your site's search engine rankings.

Directing a Message to a Definable Audience:

Even if your content is insightful and exciting, it will only result in conversions if it reaches the correct people. For example, through social media marketing, you may segment your target audience based on demographics such as age, location, and online behaviour. For example, experts in social media marketing may narrow your focus to your ideal clientele, evaluate their online habits, and use that information to create ads and content that resonate with them.
Increased exposure to potential buyers 
A study by the Global Web Index found that 54% of people who use the Internet do product research on social media sites. Also, 49% of customers said they listen to what social media influencers say when looking for brands. An effective social media marketing campaign can help spread the word about your business and get it in front of your target audience. For example, you will have full authority over your brand's image on social media packages that can be tailored to fit your budget. Your social media content strategy, branding, and budget are all in your hands. To always be at the top of your B2B social media marketing game, you need to know how to use social media effectively for marketing.
Customers are more likely to trust your business if they know you know how to use social media for marketing. This will help you become an expert in your field and build strong relationships with your audience. Our social media marketing agency shares relevant information and participates in online conversations about your business to keep a finger on the pulse of your target market. We also use social media video marketing to feature your brand's positive customer reviews, case studies, and other evidence-based material. These methods are crucial for winning over customers' confidence and developing close bonds with your supporters.
More money in the bank thanks to the low-cost, high-return strategy of social media advertising for businesses of all sizes. Several social media sites offer free or low-cost ways to advertise your wares to a broad audience. One of the best things about social media marketing is that it allows you to connect with potential customers worldwide without spending much extra effort or money. Social media marketing is an excellent method for providing people with a sense of connection to your brand and an inside look at the inner workings of your business. Use 9 Pinn's social media marketing tools to increase brand advocates. If you are interested in learning more about how to use social media for marketing, please get in touch with our company immediately. Launch it directly to maximise the effectiveness of your social media marketing strategy.
Call Us Right Now For A Free Estimate
Social Media Marketing Services for Businesses. Gain More Votes of Confidence Online. Social media campaigns and tactics must stay one step ahead as the internet community grows and changes. Whether you want to increase the likes or followers of your brand's page or need a targeted campaign to generate revenue and new customers, our social media marketing consultants have covered you.
9 Pinn Digital Media is a social media marketing company that has been doing this for a long time. Our experts know how to create creative social media marketing plans and implement them for businesses of all shapes and sizes. Grow your audience and increase your online engagement with social media marketing packages tailored to your needs and branding. Let'S Talk
Social Media Management
Drive Your Customer Engagement and Brand Loyalty. Social media has created an unprecedented opportunity for businesses to engage directly with customers and gather valuable insights for brand development. With a strong value proposition and inventive social media marketing tips appropriately implemented, you can reach more customers online and maintain a positive online reputation — social media management allows you to do just that.
What Is the Definition of Social Media Management?
Social media management is a subset of the marketing that entails developing, scheduling and analysing information shared on social media networks. To monitor your social media presence and bulk-schedule online postings, social media marketing agencies use numerous social media management tools and platforms, such as Hootsuite and Onlypult. Given the expanding population of consumers exposed to new brands on social media platforms daily, social media management is critical for staying ahead of the curve. You can use social media management to:
Create a consistent brand
Control your online community
Reduce business expenses
Monitor the progress of your campaign
Improve your customer relations
Increase the size of your audience
We at 9 Pinn recognise that social media management is a constant effort. 
That is why we stay up to date on the newest trends and market changes to maximise your brand's potential. Our social media marketing specialists use cutting-edge technology to manage your social media accounts and customise your campaign management processes to match your unique goals and audience expectations. Keep up with the changing social media scene to produce more business. Call us right now to get started on your social media management campaign!
Services for Social Media Marketing
Increase Sales by Boosting Your SMM Campaigns
Website Design and Development
Search Engine Optimisation (SEO) Pay-Per-Click (PPC) Advertising
Email Promotion
Conversion Rate Optimisation (CRO)
Content Writing
Link Building
Social Media Marketing Platforms
Gain an advantage over your competitors by reaching out to new customers. Traditional marketing strategies are becoming outmoded as we move to a digital environment. As a result, many businesses are struggling to generate new business. Only put off improving your Twitter social media marketing and other SMM activities once your competitors have taken over the digital sphere.
Let us assist you in tapping into the social market and discovering new conversion chances.
Facebook Advertising
Instagram Promotion
Twitter Promotion
Marketing on LinkedIn
YouTube Promotion
Pinterest Advertising
TikTok Advertising
Why Should You Use 9 Pinn Digital Media for Social Media Marketing?
Make New Connections and Increase Your Competitive Advantage
9 Pinn Digital Media, an award-winning social media management business, maintains complete transparency so you can witness firsthand how our efforts generate your online revenue. Our dedication to successful social media management and marketing tactics results in a beneficial network resource for your online marketing requirements.
When you work with our social media marketing agency, you will receive the following benefits:
Account Managers Who Care
Comprehensive Onboarding Procedure
Personalised Social Media Marketing Strategy
Reports on Social Media Campaigns
Paid and Organic Team
Reach out to more individuals and raise brand recognition. Let's Get In Touch